Sioux Center Business Information: COVID-19
* updated as of June 5, 2020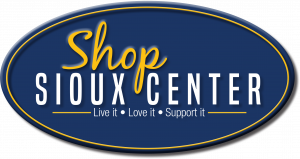 2nd Chance Depot ATLAS of Sioux Center - Due to COVID-19 we are by appointment ONLY I will be posting on Facebook if you see something that you want private message me or call the number below and I will meet you at the store! We will practice social distancing so if you are getting something large please bring help to load it! We also will be taking donations at this time so you can call the number below or private message me on Facebook to set up an appointment...also remember to bring help to unload! 712-722-0830
4 Brothers Bar and Grill - Restaurant is open with social distancing guidelines in place.  Hours: 11am-2pm for Lunch.  4:30pm-9pm for Dinner
Agency Two Twelve - Offices will be temporarily closed to the public until further notice. Our staff will primarily working remotely but can be reached by phone and email. Our clients are and always have been our top priority and we will continue to serve them remotely. Please feel free to contact us at 712-722-2117 to speak to any of the staff or by emailing any staff members directly!
American State Bank - limited lobby access, by appointment only. Drive-ups are open! To make appointments, call 722-4846
American State Bank Southside Branch - limited lobby access, by appointment only. Drive-ups are open! To make appointments, call 722-4847
ATLAS of Sioux Center - ATLAS (Attaining Truth, Love and Self-Control) is available to walk alongside you in your hurt.  The Sioux Center office is no longer open to walk-in traffic. Please call our office number for any assistance or to set up a video appointment                    with a staff mentor at 712-722-4900. You can also contact us by email at office@atlasofsiouxcenter.org. Donations are also being accepted! We have a dropbox on the front of our building where cash/check donations or grocery cards for families in                         need can be dropped off at anytime. We also have Venmo (ATLASofSC) and Paypal (atlas@mtcnet.net) accounts that can be used for donations as well.
B&B Plumbing & Heating-Staff are present but doors are not open to the public.  If you need service work, please confirm that no one has been sick in your home within the last week.  If service work is not an emergency, we will put you on a list of service work                     that will be completed once the health risk lowers.  Please pay bills via on-line, by phone via credit or debit card, or mail.
Beaver Eye Care - Soft opening beginning May 4! With the current situation, the soft opening will include numerous guidelines. Please keep an eye on our Facebook page for updates.
Bomgaars - Hours: Monday-Saturday 7:30 am-6:00 pm  Sunday 9:00 am-6:00 pm.  Curbside pickup is also available!  Call in your order to 712-722-2500 and they will place your items in your vehicle when you arrive!
Brommer Sanitation - Normal routes and hours. Brommer Sanitation Can & Bottle Redemption is closed until further notice
Butlers Cafe & Coffee - We are open with social distancing guidelines in place! Hours are 7am to 9pm.
Casey's Bakery - The BAKERY is open, we are in full production, our shelves are full of bread, buns, cakes, donuts...and Almond Patties!! The KOFFIE HUIS is making drinks (the coffee variety), I think we all could use a favorite coffee drink about right now!                             Hours - Mon-Fri, 6am - 6pm, Saturday, 6am-5pm
The DELI is open 6am-2pm To Go available!!!!
Center Sports - Center Sports will be opening on May 4th.  We will be open to the public from 11-5 Monday - Friday and 11-3 on Saturday.  We will take appointments from 9-11 a.m. and 5-7 p.m. Monday - Friday for anyone not able to make those hours or those not comfortable shopping with others.  There will not be staff at the store during the appointment times unless something is scheduled so please call ahead to schedule a time.  
Central Vet Clinic-Front doors are no longer open to the public.  As you arrive for your scheduled appointment or to pick up products and food, please wait in the parking lot for staff to come out and assist you. You are welcome to come up and knock on the                      glass door or call 722-1087 when you arrive to notify us that you are here.
For the time being, we remain open 7:30-5pm Mon-Fri and 7:30 until noon on Sat.
Cinema 5 Theatres -We're reopening for movies and Curbside Popcorn To Go!
* Friday, May 29: 3:00 – 9:15 pm
* Saturday, May 30: 12:00 – 9:30 pm
* Sunday, May 31: 12:00 - 7:30 pm
* Monday, June 1 - Thursday, June 4: 3:00 - 7:30 pm
We'll be showing:
* The High Note
* Trolls: World Tour
* Bloodshot
* I Still Believe
* The Way Back
Check out the showtimes and buy tickets online here: https://www.fridleytheatres.com/locati…/…/Cinema-5-Showtimes
We're committed to the safety and health of our communities. Please read the new measures we are putting in place: https://www.fridleytheatres.com/page?id=14648
Curbside Popcorn To Go is also going to continue for your movies at home - information will be posted tonight!
City of Sioux Center- The City Office is remaining closed to the public.   You can reach them by email at info@siouxcenter.org or by phone between 7 a.m. and 4:30 p.m. Monday through Friday.
Chamber of Commerce-Office is now open to the public and staff are available to answer questions via email at barbdh@siouxcenterchamber.com or by calling 712-722-3457.
Culvers - Normal business hours 10:30am - 10:00pm Mon-Sun, Drive-thru is open or call-in your order for SPEEDIER curbside pick-up at 712-722-1236.
Dairy Queen of Sioux Center - Normal Hours, Drive-thru, Carry-out
Driesen Eye Center - Opening with a modified schedule on May 4. Limited to 1 patient in the office at a time.
Evergreen Yoga. Barre. Fitness - Join us for an in-studio or virtual class (your choice!) the week of May 25. We would also like to bring your attention to the fact that you will be REQUIRED to pre-register for ALL in-studio classes from here on out to ensure that we abide by current social distancing standards.
Expressions Floral & Home Decor - Store is open!
Fareway-Open to the general public from 9am-7pm and from 8am-9am for over 65, expecting mothers, and people with high-risk health issues
Flooring and Design - Mon, Tues, Thurs, Fri 9-5, Wed 9-7 and Sat 10-2
Furniture Mart - Store is open!
Greenworld Inc. - We are open!  Hours: 8:00-5:30, Monday -Friday. 8:00-12:00, Saturday.
Hardee's - Normal Hours, Drive-thru only
How-To-Building Center - Hours: 8am-5pm Monday-Friday and 8am-1pm on Saturdays.
Hy-Vee Food Store - Customers age 60 or older, expectant mothers and anyone with an underlying health condition that makes them more vulnerable to illness can shop from 7 to 8 a.m., seven days a week, at any Hy-Vee store. All other customers – please visit us during our new store hours of 8 a.m. to 8 p.m.
In Clover - Message them on Facebook, Instagram or email incloverdesign3@gmail.com if you have any needs!
Jimmy John's-Drive-thru, delivery and grab 'n go are all available!  Open every day from 10 am-9 pm.
Jorgensen Hearing Center - Mon-Fri 8 am-5 pm by appointment only
Lewis Family Drug - Front Doors REOPEN for business. WE ALSO OFFER FREE MAILING AND LOCAL DELIVERY
Linden Enterprises (Denny De Jong)- open for business from his home office.  If you need imprinted promotional products call Dennis at 712-395-1711 or email linden_enterprises@hotmail.com     Business hours are 6:00 AM to 10:00 PM Monday through Saturday.
Los Tulipanes - Open for carry out and dine-in eating! Sun-Thurs 11-8 and Fri-Sat 11-9. Still able to sell margaritas to go! (712) 722-1434
M.J.'S Sinclair - Sunday 7am-10pm, Monday-Thursday 5:30am-9pm, Friday & Saturday 5:30am-10pm MJ'S offers ready to eat hot and cold food offerings available for carry-out. Some of the items we offer: Broasted Chicken, chicken strips, popcorn                                 chicken and potatoes; Various Hot sandwiches, wraps and burritos; Roller grill selections; Various appetizers; Cold meat sandwiches; Cut fruit cups
Maurices - Store is open! Store hours: Monday-Friday: 11 am - 6 pm, Saturday: 11 am -5 pm
McDonald's - Drive thru, Mobile Orders, Asking Truck drivers to please call 712-722-3031 to place orders
Melissa's Hope Chest -We will be open limited hours until further notice.  Our sales floor will be open Monday - Saturday from 10am-3pm. Our back door will be open for donation drop offs Monday - Saturday from 9am-4 pm. Please do not leave any items outdoors! We are looking forward to seeing you all again!
Mid-Sioux Opportunity, Inc. - Normal Hours, Mid Sioux Opportunity is open in Sioux Center, however, we are only doing phone applications for Liheap and if a client needs a food bag or hygiene bag, they can call in advance and we will bring it out to them.  The number for them to call is 712-722-3611
Mouw Motor Co - Normal Hours
Northside Body Shop - Normal hours, but we are asking for people to call ahead for estimates/repair appointments. We are trying to reduce the amount of walk-in traffic.
Northwest Bank - Walk-up and drive-up are open normal business hours. Lobby is closed. Please contact us at 722-2791 to schedule an appointment.
Outlet 75 - Outlet 75 will be re-opening on May 6 with the following hours, Wednesday 11-6 & Thursday 11-3.
Pat's Jewelry Centre - We will be open 10-4 Friday, May 1 and Saturday, May 2. Starting May 4 we will be open 9-6 Monday-Friday and 9-3 Saturday (summer hours)
Peoples Bank -Limited lobby access (Access by Appointment).  Please call 712.722.0101 to setup private appointments.
Perspective Insurance - limited lobby access, by appointment only to make appointments, call 722-2222
Petals & Perks -Monday through Friday 9-6 and Saturday 9-3. WE ALSO encourage anyone who prefers  to continue using our drive through and we are also delivering!
Pizza Hut - 11am-9pm, Carry Out & Delivery, Order online at pizzahut.com
Pizza Ranch - Mon-Thur 11am-8pm, Fri-Sat 11am - 9pm, Carry Out and Delivery. Any Large Pizza for $10, Any Medium Pizza for $7, Any Small Pizza for $5, 8 pieces of chicken and wedges for $12, Family Pasta and 6 bread sticks for $9.99, Add a Cactus Bread for only $3.99
Prairie Life Chiropractic-open normal hours with the option of telehealth through a HIPAA compliant platform.
Premier Communications-Lobby is closed to walk-in traffic but are still available via phone at 712-722-3451 or 1-800-741-8351 from 8:00 a.m. – 5:00 p.m.
Reflections Prom & Bridal - Open Tuesday-Friday from 10am-5pm and Saturday from 9am-1pm.  Appointments are encouraged but not required.  lease call 712-722-4880 to schedule your appointment!
Renae's Salon & Spa- Open
Rise Gymnastics - Softly reopening
Robin's School of Dance & Fitness - Joining us for an in-studio or virtual class (your choice!) the week of May 25. We would also like to bring your attention to the fact that you will be REQUIRED to pre-register for ALL in-studio classes from here on out to ensure that we abide by current social distancing standards.
SB-EDGE Supplements a division of: Sioux Biochemical Inc - Normal Hours - Mon-Fri, 9am-3pm, We are encouraging phone orders as we do offer free shipping.
Seasons Buffet - In restaurant dining closed for now, open on for take-out
Sewing by Sara - Tues, Wed, Fri 9am - 3pm, effective through March 31
Shoe Sensation -We will be opening May 1, our hours will be 10-5 Monday-Saturday and we are only allowing 15 people at a time in store.
Sioux Body Shop Inc. - As the world kind of took a strange turn over the last few weeks, we must make some changes as well here at Sioux Body Shop Inc.
For the safety of our employees, families, and customers, we ask everyone to take extra caution.
Starting today, our guys will be disinfecting every vehicle before it comes into the shop. We also will be disinfecting every vehicle before it returns to our customers as well. Our employees will be wearing rubber gloves before, during, and after repairs are done. On both pick up, and delivery also.
We also ask for everyone to help us as well. We ask that you make prior arrangements before coming in for an estimate. I will be happy to come to you and look at your vehicle. Whether it's at your work or home, in town or outside of town, we can do  whatever works for you.
We want you to know, that we are taking the best steps we can to insure everyone's safety during this time.
As of now, we are NOT closing and WILL REMAIN OPEN Mon-Fri 8am-5pm & closed over lunch from 12-1. And always, We are your hometown towing for over 35 years 24 hours a day!
Sioux Center Chiropractic-Open normal business hours
Sioux County Drivers License - reopen, Tuesday and Thursday 8-4:30
Sioux County Livestock - Hours are 6am-10pm (6am-9pm Monday-Thursday)
* Full menu available for dine in and carry out (that includes breakfast served all day)
•Please come in the back door lounge door to pick up orders. Curbside is available upon request.
•Payment over the phone preferred but will accept all forms of payment
SNAP Fitness - UPDATE! Beginning May 25 we will be open 24/7. Our staff will be cleaning regularly throughout the day with a deep clean each night. Day passes will also be allowed starting on this date.
Studio R Acrobatics & Tumbling-We are open!  Hours are Monday, Tuesday and Thursday: 3:30-6:30 p.m.  Wednesday: 2:30-5:30 pm
Subway - Subway is now open for dine in and we are operating at 50% capacity according to Social Distancing guidelines. Expanded hours to 10:00 AM - 9:00 PM
Sunkissed Tanning - Open normal hours
SuperHiTech - Normal Hours
Taco Johns -Drive thru and dining room open!  Monday thru Friday 7am to 10pm Saturday & Sunday 8am to 10pm!
Terrace View Event Center - Reopen normal business hours
Three:Twelve - Store is open!  Hours are Monday: 9am-6pm, Tuesday: 9am-6pm, Wednesday: 9am-8pm, Thursday: 9am-8pm, Friday: 9am-6pm, Saturday: 9am-3pm.
The Fruited Plain Cafe - Open from 7am - 8 pm.  Soft reopening on May 1. To Go orders and Drive-Thru Still available. Daily specials - check our Facebook and Instagram Pages!
The Ridge Golf Club - Golf Course is open!
The Ridge Grille - Restaurant is open!  Hours of operation for the Grill kitchen Monday-Saturday 11am-2pm and 5pm-8pm.  Fryer food will be available from 2pm-5pm.   Take-out/curb side pick-up will also continue.  No Cash payments please. We will take your credit card information when the order is placed. If you would like to add your credit card to your account, please let us know.
Please use the south (large) parking lot for take-out/curb side pick-up. Please call 722-4866 followed by 2# to reach the Grill.
The Travel Advantage - Normal Hours, but allowing clients in the office by appointment only
Van Bruggen-Wesselink Insurance - As a precaution and to ensure the health of our team members, clients and families, we will be limiting lobby access to appointments only. To make an appointment please call 712-722-2243
Vander Berg Furniture, Flooring & Homes -We are open with regular showroom hours, but closing at 7 pm on Wednesdays and 2 pm on Saturdays until further notice.
Van Voorst Equipment Company - Business Hours 8am-5pm.  Doors are locked, but they are open to serve you-please call ahead 712-722-1462.  We will set you order in a designated area outside or bring it to your vehicle.
Ver Hoef Automotive - Normal Hours
Vi Bella Jewelry - 25% off your online order.  FREE shipping on all orders $25 or more. Our online shop is fully stocked with beautiful products made by the Vi Bella artisans who need support now more than ever. Vi Bella will be providing curbside pickup on Tuesdays and Thursdays only, and from 10am-2pm only
Walmart Supercenter - 7am-8:30pm. Special hour of shopping for those 60+ each Tuesday from 6am-7am.
Walstra Plumbing and Heating - We are committed to serving our customers during this time of uncertainty! In order to protect the health of our employees, family, customers, and friends, Walstra plumbing and Heating has decided to limit entrance into our  building to employees only, until further notice.  If you have an emergency or need immediate assistance please call 712-722-1575. We will be contacting the customer prior to arrival and asking if anyone in the household has been recently ill.  Other arrangements can be made on a case by case basis.  After hours emergency service is available by calling 712-441-2046. These calls will follow our service protocol listed above as well