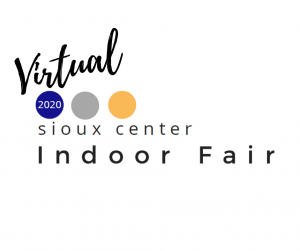 Coronavirus Update: March 16, 2020
The 60th Annual Sioux Center Indoor Fair is going virtual!  Due to the recommendations from the Iowa Department of Public Health to refrain from hosting or attending events drawing 50 or more people, the Executive Board of the Chamber and the Indoor Fair Committee have chosen to cancel the upcoming Indoor Fair that was to be held on March 25 and 26. We will instead feature a virtual Indoor Fair event that will highlight each of our amazing vendors and sponsors through social media.
It's not lost on us the amount of time, effort and work that our vendors have put into preparing their booths for the Indoor Fair, and we want to recognize them for the amazing service they provide to our community.  We will do this by highlighting our vendors on our social media platforms so that the public can easily see their product and shop their websites directly.   During this time of uncertainty, the Sioux Center Chamber is committed to supporting and promoting our local business.
"The Show of ALL Home Shows" is a comment we get quite often from our exhibitors. We are proud to say this event has been taking place for over 50 years. Each March, a few days are chosen in which we hold the Indoor Fair at the All Seasons Center. The ice is cleaned out from the arena and 120 exhibitors move in to promote their services, interact with current & potential clients, or sell their products. Our event takes place on a Wednesday and Thursday from 3-8 pm with a fundraiser supper served from 5-7 pm. We work hard to keep this event successful and professional for our vendors. We estimate at least 3000 people attend our event over the course of two days. Come & enjoy free admission, free refreshments, free give aways, and many door prizes!