Behind the Scenes of a Chamber Member
What family owned business in town still uses an original, unmodified recipe for their Oatmeal Raisin Cookie? Casey's Bakery! 
This recipe came when the bakery first opened on the Main Street of Sioux Center in 1946. Cornelius (Casey) De Groot purchased the bakery when he got back from WWII. Once the mall was built in 1991, the bakery moved to its current location in the Centre Mall.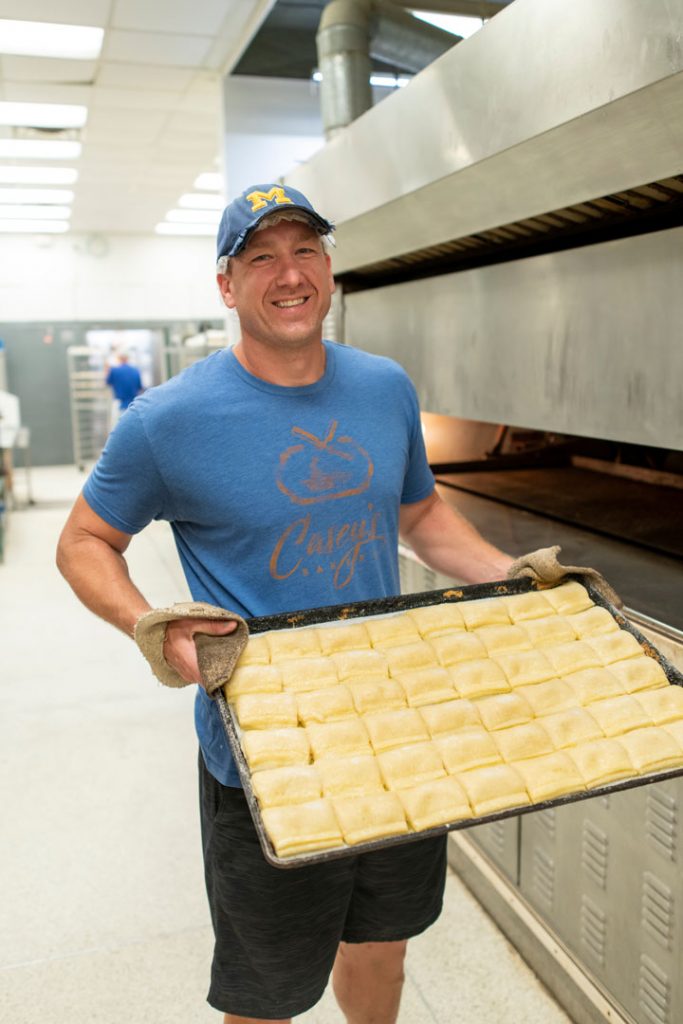 Now Ryan De Groot runs this family business with some help from his parents, Ron and Kathy.
Ryan explained that he's "always been involved, being a family business - all hands pitch in." There are many jobs to do at the bakery, and Ryan has done them all. As a little boy, he started doing dishes on Saturdays. In 5th grade he was promoted to filling and frosting donuts on Friday nights. From that point on, he learned every job at the bakery. 
Did you know that there are only two original pieces of equipment that the bakery still uses today?
The candy stove and the marble table that date back to 1949. The original Anise Candy was made with these two pieces of equipment. Ryan remembers, "Anise Candy is the only product I actually learned how to make from my Grandpa Casey. I still think about going with him to Doc's Cafe next door to get a hot dog after we finished making this candy." 
Casey's Bakery is more than just a business. It is a family.
Ryan and his family are proud to say that their work environment with their employees is a family environment - meaning "treating your co-workers and customers with respect.  Hopefully that also means that when there are issues that come up, that we treat each other with understanding and a little extra grace."  
There are big plans in place for this small town bakery.
The family is passionate about keeping the bakery true to its story and name, however they also strive to keep evolving with their customer's needs. They already implemented some changes such as updating their Koffie Huis and are making plans to remodel the remainder of the bakery front.  Sioux Center is about personal connections and Ryan strongly believes it is "important that we don't impersonalize our daily lives" because Sioux Center has excelled as a town of our size by our unique connections.
How much did you know about Casey's Bakery?
Share with us some of your favorite experiences at this beloved Sioux Center store on this Facebook post. Remember to shop and eat local!
Want to learn more about the Chamber and our members? Follow us on Facebook for the next story that we share!